VB6 COMPILE
Version:
Beta 1 v.0.1.0.8

Filename:
ccrpmcl6.zip

Download:
240k (w/demo and help file)

REQUIREMENTS
Development:
VB6 SP0/1/2/3

Runtime:
VB6 runtime
---
CONTACT
jeremyadams@hotmail.com

REVISION HISTORY
Beta 1 v.0.1.0.8
October 20, 2000
The CCRP MonthCal Control provides functionality similar to that of the CCRP Date/Time Picker (DTP) Control, however it is designed for applications where the developer requires an on-screen, customizable calendar at all times.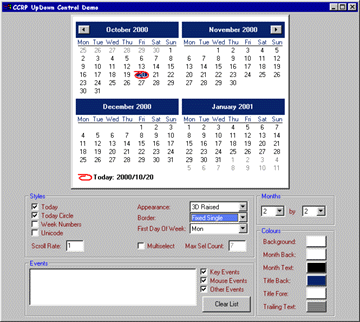 New
The CCRP MonthCal control is based on the new CCRP UserControl Child Window Helper DLL (ccrpUCW6.dll version 0.03.0067) and is required in order to use the OCX. The Helper DLL is included in the download zip, and should be registered on the system before registering the ccrpdtp6.ocx control.
The CCRP UserControl Child Window Helper DLL provides the common core functionality for the control, and is forming the basis for controls in development. Consequently this DLL forms part of the control, and must therefore be distributed and installed on the client machines along with the ocx.
Features
Please see the included help file.
---
VB Common Controls Replacement Project Date/Time Picket Control
Copyright (C) 1998-2004 Jeremy Adams
http://ccrp.mvps.org/